Eron and Grant Gee. Fran and Shirley Eron purchased the firm in 1964 and continued to run it until 1995. Since then it has been run by siblings Jim and Deb Eron. In 2002, Herman's Plumbing was purchased to continue our commitment to the Wisconsin Rapids community. We provide residential and commercial plumbing for new construction, remodeling and repairs. Our heating area provides boiler installation and service. We also carry an extensive line of parts for the Do-It-Yourself market. We are also able to provide sewer and drain cleaning using either cable or water jetting equipment. Our "Sea Snake" provides underground sewer and drain televising for up to a 12" pipe.
We have available Water Right equipment to handle all your water conditioning problems. Iron removal, water softening and treatment for acidic water are available.
All of our technicians are licensed by the State of Wisconsin. Regular training keeps them up to date on code changes and new products in the marketplace
See us for all your plumbing and hydronic heating needs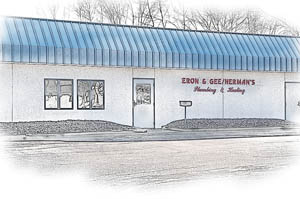 1111 Alton Street
Wisconsin Rapids, WI 54495
Phone: (715) 423-7430
Fax: (715) 423-4724
Hours: Monday - Friday 7:00am - 4:30pm
"Recently my wife and I had a small disaster, one that made us feel like pioneers. The wax ring around our toilet was leaking!! It leaked so bad that the floor was rotten and would take new sub flooring and vinyl before we would be able to set the toilet. For us it was a disaster for we only have one bathroom. We knew we had to get this handled quickly so decided to replace the flooring ourselves and hire a plumber to set the toilet. First problem was the old plumbing was also corroded (cast iron) so we called Eron Gee Herman Plumbing and they came out almost immediately to cut the pipe so we could install the floor. Things went like clockwork and they rearranged their schedule to get our toilet installed. We were amazed at how smooth the installation went and were very impressed with how clean they left everything, it was like they were never there!
With the multi-visits we figured the bill would be astronomical but as it turned out it was well under $300.
Brenda and I would highly recommend Eron Gee/Herman to anyone that's needs great professional service at reasonable pricing.. you won't find better in the Wisconsin Rapids Area.
Phil and Brenda Vouers "